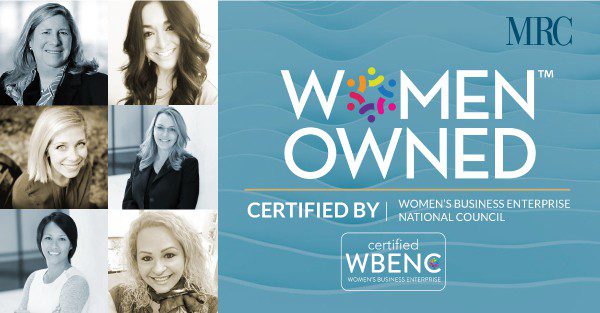 MRC is proud to announce its national recertification as a Women's Business Enterprise by the Women's Business Enterprise Alliance (WBEA), a regional certifying partner of the Women's Business Enterprise National Council (WBENC).
The WBENC, founded in 1997, is the largest third-party certifier of businesses owned, controlled, and operated by women in the country. WBENC's national standard of certification implemented by the WBEA is a meticulous process including an in-depth review of the business and site inspection. The certification process is designed to confirm the business is at least 51% owned, operated and controlled by a woman or women.
MRC has been a true beacon for diversity to both the legal industry and its employees since being founded in 1983, and has successfully achieved the WBE certification for the past 15 years. Since 2010, MRC has also been successful as a 100% employee-owned business, under the leadership of CEO, Gretchen Watson. Watson is proud to boast that 81% of its employees are female and 40% is made up of minorities.
Today, MRC is known as an industry-leading litigation consulting firm specializing in Record Collection & Management, Nurse Analysis & Audit, and Regulatory Compliance services to Legal, Pharmaceutical, Health Care and Corporate entities.
"MRC's commitment to diversity initiatives, including the active development and promotion of women in leadership roles, not only delivers immense value to our clients, but ignites a corporate culture that is excited to serve society by helping build stronger families, communities and businesses," Watson said.
By including women-owned businesses among their suppliers, corporations and government agencies demonstrate their commitment to fostering diversity and the continued development of their supplier diversity programs.
To learn more about MRC, please visit www.mrchouston.com.