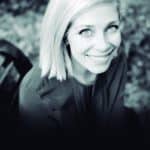 MRC's talented Natalie Baker Reis is more than a just top performing national account representative. Natalie wears many hats, and as Co-Editor for the DRI Young Lawyers' Raising the Bar publication, she explored some of what she does in the publication's recent Young Lawyers Member Spotlight.
How and why did you first get involved with DRI?
MRC is a regular sponsor for a number of DRI conferences each year, so several of our team members were already loyal DRI-goers when I began my role. My first conference was the 2016 Annual Meeting in Boston—which was a little intimidating because there were so many people and it seemed like everyone already knew each other. But as I became more involved in certain committees, I've gotten to meet some amazing people—many of whom I can now call genuine friends.
What DRI committees (other than Young Lawyers) are you most interested in, and why?
I'm also on the Steering Committee for Women in the Law (WITL). Like Young Lawyers, WITL provides a ton of opportunities to network and meet other fantastic, talented DRI members. I also like how WITL tackles gender-specific issues and promotes self-empowerment and both personal and professional success.
What is your favorite part about your job?
I am a (recovering) litigator and decided to completely switch careers several years ago. Because I have a journalism/public relations background, I found that business development-type roles would be a good fit for me. I joined MRC almost three years ago and landed in a position involving business development, sales, and marketing. I wear a lot of hats, so I'm always doing something different. Plus, I get to travel to cool places and meet a lot of interesting people.
When you are not working, what do you enjoy doing?
Where we live, being outside is a must. My husband and I are very active, so we're always outside doing some sort of activity, like sand volleyball, running, or surfing. We also have a one-year-old daughter, as well as a 60-pound rescue pup—both keep us very busy!
What was your very first job?
When I was 16, I was a waitress on the weekends at the Original Pancake House in Dallas. Ultimately, I found that I really liked waitressing—so much so that I continued doing it all through high school and college for some extra spending money. Getting to meet new people, testing my memory, and hustling harder than the day before to get more tips were all fun aspects of the job for me. Plus, it was nice to always have a wallet full of cash!
If someone is visiting your city, where is it essential that they do?
MRC is based in Houston, but I'm one of the few who work remotely. I'm originally from Dallas, but I now live in a small beach/surfer town called Encinitas, about 25 miles north of downtown San Diego. The weather is usually sunny and 70 degrees year-round, so I would recommend hiking Torrey Pines in La Jolla, hitting the beach in Cardiff or Del Mar, and if you have kids, checking out the San Diego Zoo. San Diego is such a great place to visit – I promise you won't be disappointed.
The article appears in the March issue of DRI Young Lawyers' Raising the Bar, Volume 15 Issue 3, courtesy of DRI.  Natalie serves as a Co-Editor for Raising the Bar publication and was the Local Marketing Chair for this year's Women in the Law seminar.